Power up: the convenience of technology & furniture
Brian Hunt on April 7th 2014.
Only a few years ago you would rarely see outlets or technology ports built into furniture. Here are a few reasons:
• it's detailed work, combining electrical expertise with carpentry skills;
• it's not easily automated in the furniture-making process;
• there are not uniform outlets throughout the globe (if you are sourcing out of the states or providing furniture out of the states).
But today's typical high-tech student wants and needs this function and style. Convenience is their number one goal; for with easy access to their technology they can study and listen to music or view other entertainment, all within arm's reach.
Function is a no-brainer but you may ask how these outlets evoke style? It's not the outlets themselves that are stylish, it's the lack of cords and minimalist look they create that certainly contribute to a streamlined aesthetic. As a provider of student housing furniture we are constantly performing our own research and development to integrate outlets and sometimes data ports into furniture to stay ahead or at least on track with the technology needed by today's digital and tech-savvy student.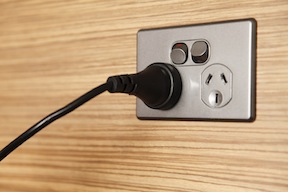 For example, we've installed outlets into metal and wooden platform beds, along with other space-saving and convenient features for urban units. Obviously outlets embedded in beds, nightstands and desks are nice features for regular student housing but when there's even less space in an urban apartment environment, this amenity is really a necessity and raises the bar on form and function.

With our FOB process, a lot of forethought is mapped out before furniture design and sourcing begins. We ask lots of questions of our clients then determine the best materials, placement and ease of use for the outlets or data ports and furniture integration. We also consider that technology changes overnight so we ensure dataports can be easily switched out in a few years. This type of strategic planning helps us be sustainable with our products that are built for years, not one or two semesters.

Posted in student furniture and technology integration